2019 SSPI Curling Event
Join us March 7th for the second annual SSPI Curling Event! Curling may have never been on your bucket list of things to do, but wouldn't it be cool to say that you have done it?
The event will take place at the Denver Curling Club [denvercurlingclub.com] from 1:30 PM – 3:30 PM on March 7th followed by a post-bonspiel happy hour. What a great way to network, laugh, and have fun with others in the satellite/space industry.
Sign up quick, space is limited! Spectators and Hecklers welcome.
We are making curling extra special this year: from the MarCO cubesats that accompanied InSight to Mars to CU's MinXXS-2 CubeSat that launched in December, Colorado is a key state in the SmallSat Revolution. We will be celebrating this exploding industry and Colorado companies' expanding role during our curling happy hour!
So excited about CO smallsats and curling that you want to do more than participate? Become a sponsor! Sponsoring this SSPI event is a great way to communicate your involvement in the Colorado space community and support for the educational initiatives of SSPI-Rocky Mountain Chapter.
---
ON-ICE INSTRUCTIONS INCLUDE:
Delivery demonstration
Drills to teach Actual gameplay

sliding out of the hack
delivering a stone to the target
sweeping a stone down the sheet

Groups divided into 4-person teams or your group may come with assigned teams
Instructors working with you through the entire experience
CURLING EQUIPMENT PROVIDED BY DENVER CURLING:
Brooms
Grippers
Step-on sliders
Delivery stabilizers
WHAT TO WEAR:
Dress in layers
Warm comfortable clothing -layered, the air temperature is 45F.
A good pair of clean, rubber-soled shoes
Thin gloves
Hat (optional)
Stretchy or loose fitting pants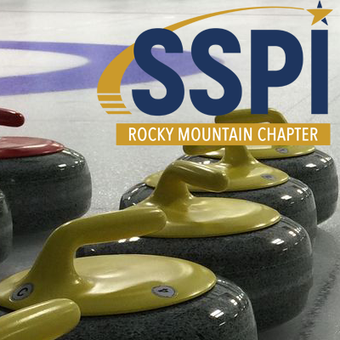 14100 W 7th Ave, Golden, CO 80401, USA