Colorado Rockies Baseball Night with SSPI
The Space & Satellite Professionals International will be hosting a networking event on June 1, 2018 @ Coors Field in Denver, games starts at 6:40PM.
Seats are located in the Lower Rooftop Reserved Seat section of the stadium.
There is a limited number of tickets available and history has shown that when the Dodgers are in town, tickets go quick.
This is a great opportunity to meet friends, colleagues, and customers in the Space & Satellite industry.
Come join us to see the Colorado Rockies take on the L.A. Dodgers.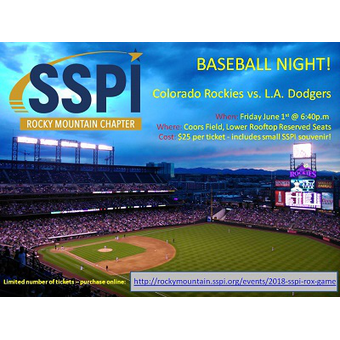 2001 Blake St, Denver, CO 80205, USA